Dataflow
Overview¶
GCP DataFlow is a managed service for batch and streaming data processing pipelines and is based on Apache Beam. Apache Beam is an open-source, unified programming model for batch and streaming data processing pipelines which simplifies large-scale data processing dynamics. Thousands of organizations around the world choose Apache Beam due to its unique data processing features, proven scale, and powerful yet extensible capabilities.
Connectivity to Astra is implemented through a custom I/O Connector named beam-sdks-java-io-astra available on central Maven.
Prerequisites¶
Installation and Setup¶
Clone the Repository with sample flows. The different flows are distributed in 2 different modules. sample-beams contains flows that do not interact with Google Cloud solutions and will be run with a direct runner. sample-dataflows contains flows that could be executed.
Navigate to the repository and build the project with maven.
Beam Samples¶
1. Import a CSV File¶
In this flow a CSV file is parsed to populate a table with same structure in Astra. The mapping from CSV to the table is done manually. The dataset is a list of languages.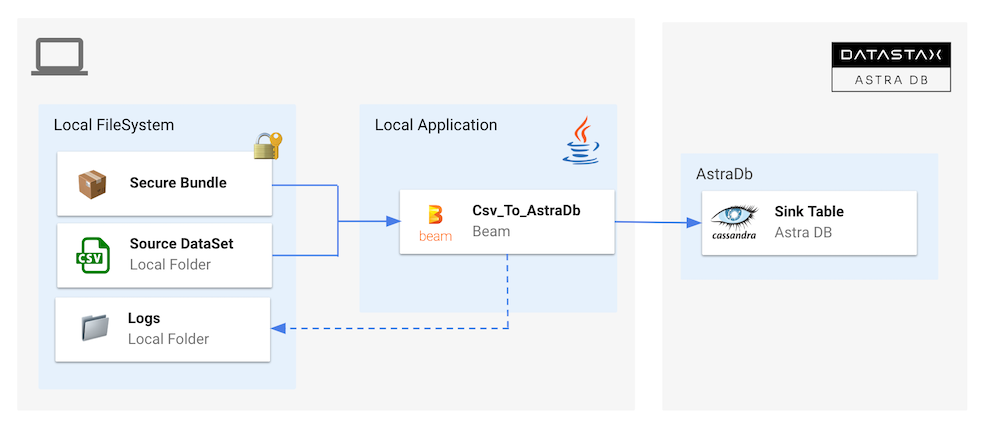 Access folder samples-beam in the project.
Setup Environment variables
Check output data in Astra
2. Export Table as CSV¶
In this flow a Cassandra table is exported as a CSV file. The mapping from table to csv row is done manually. The same objects are reused from #1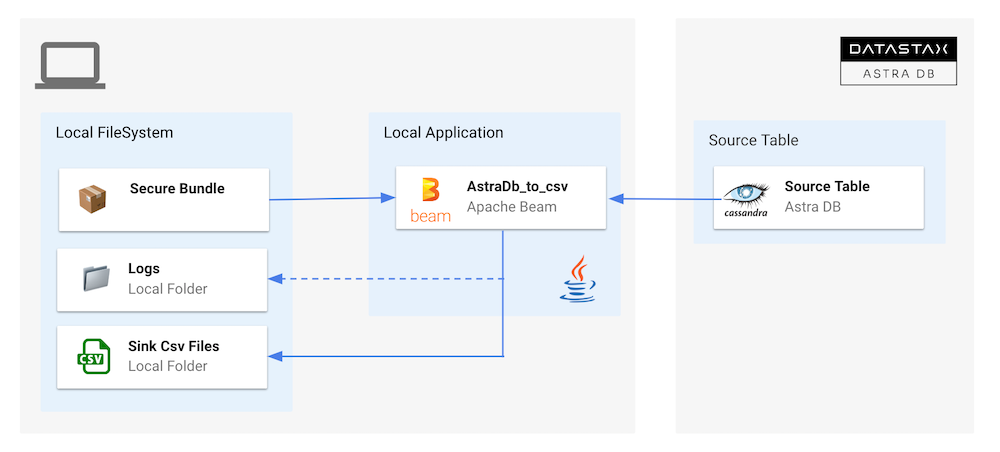 Setup Environment variables
Check output data in astra
3. Import Cassandra Table¶
Similar to ZDM a cassandra Table is imported into Astra. We are reusing the same data model as before. Mapping is manual. We can note that Cassandra reading is operated with CassandraIO (driver3x) where the load is done with AstraDbIO (drivers4x).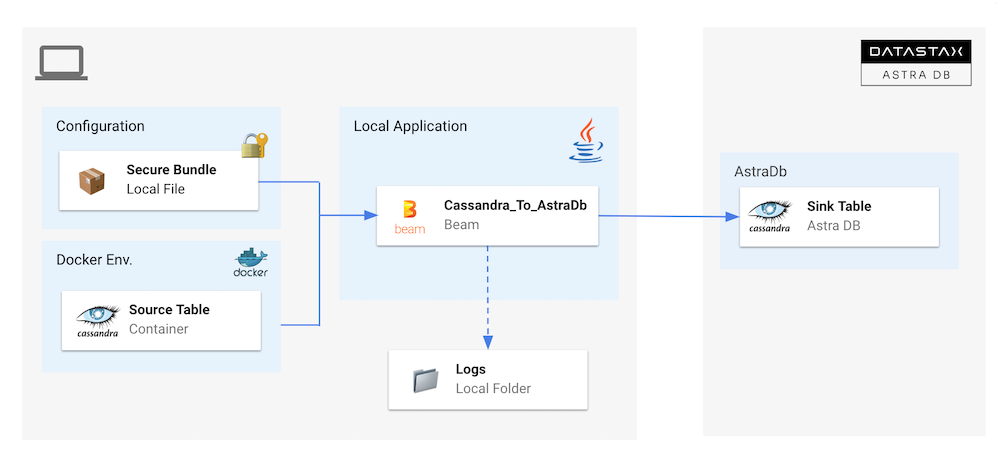 Start Cassandra as a docker image with docker compose: Project propose a docker-compose to run Cassandra locally. Use docker-compose to start the containers
Wait a few seconds for Cassandra to Start. The following command give you the status of the container
Validate Cassandra is ready: By connecting with cqlsh and displaying the datacenter.
Run the pipeline: Keyspaces and Tables are created in local cassandra before starting the copy into Astra.
Check data in Cassandra with cqlsh
Check data in Astra destination with cqlsh (CLI)
4. Generative AI¶
This use cases is divided in 2 flows. In the first step we will import a CSV file as before mapping the CSV schema in destination table. Second flow will alter the table to add the embeddings vector and populate it after calling OpenAI Embedding API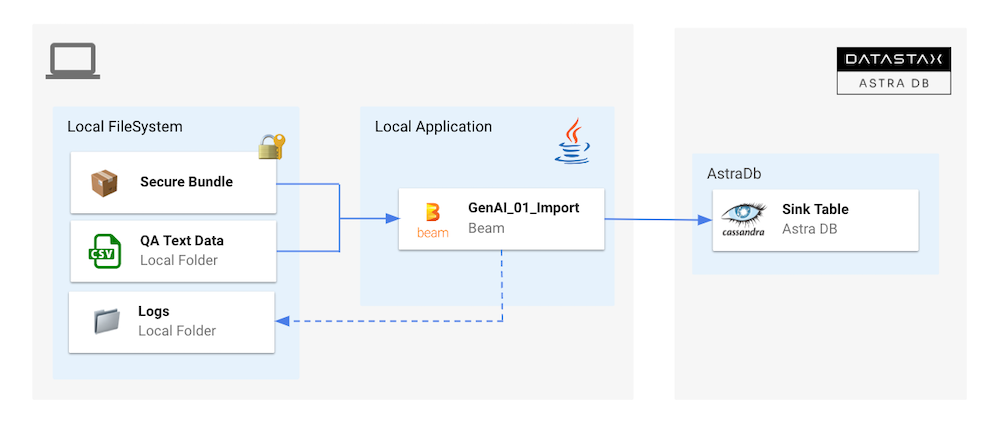 Import Data with first flow
A table is created with the following structure:
Check output data in Astra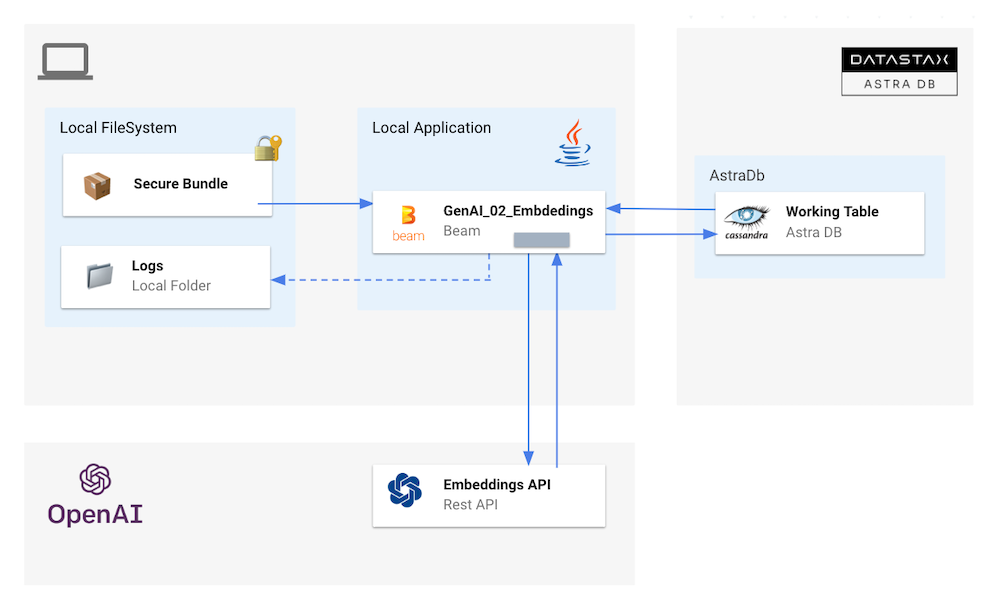 Add extra environment variables
Google Dataflow Samples¶
1. Setup gCloud CLI¶
Note: If you don't plan to keep the resources that you create in this guide, create a project instead of selecting an existing project. After you finish these steps, you can delete the project, removing all resources associated with the project. Create a new Project in Google Cloud Console or select an existing one.
In the Google Cloud console, on the project selector page, select or create a Google Cloud project
Make sure that billing is enabled for your Cloud project. Learn how to check if billing is enabled on a project
The project identifier is available in the column ID. We will need it so let's save it as an environment variable
Login to gCloud: Run the following command to authenticate with Google Cloud:
Setup your project: If you haven't set your project yet, use the following command to set your project ID:
To complete the steps, your user account must have the Dataflow Admin role and the Service Account User role. The Compute Engine default service account must have the Dataflow Worker role. To add the required roles in the Google Cloud console:
2. GCS to AstraDB¶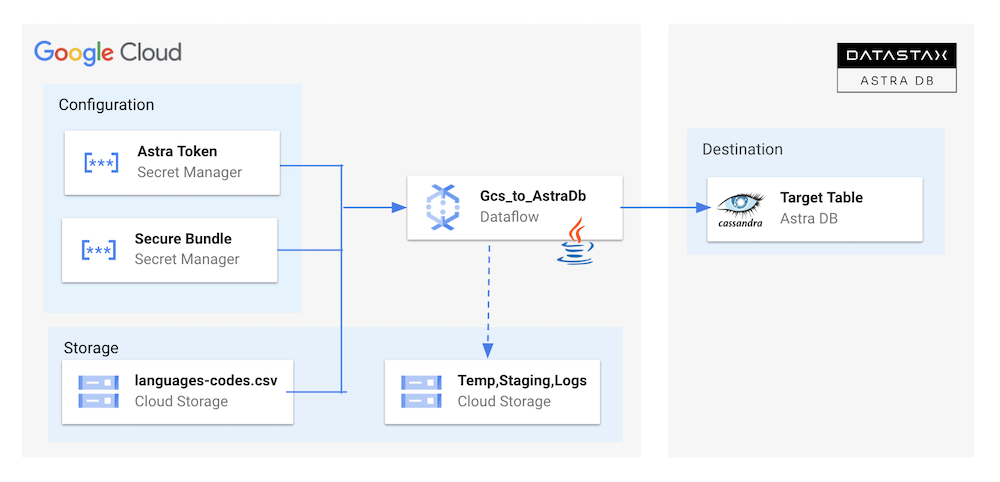 Access Folder

Make sure you are in samples-dataflow folder
Create buckets: Create the bucket for the for the project in cloud storage:
Copy the CSV file in the bucket
Create secrets for the project in secret manager**. To connect to AstraDB you need a token (credentials) and a zip used to secure the transport. Those two inputs should be defined as secrets.
Check Astra table is populated
3. AstraDb to GCS¶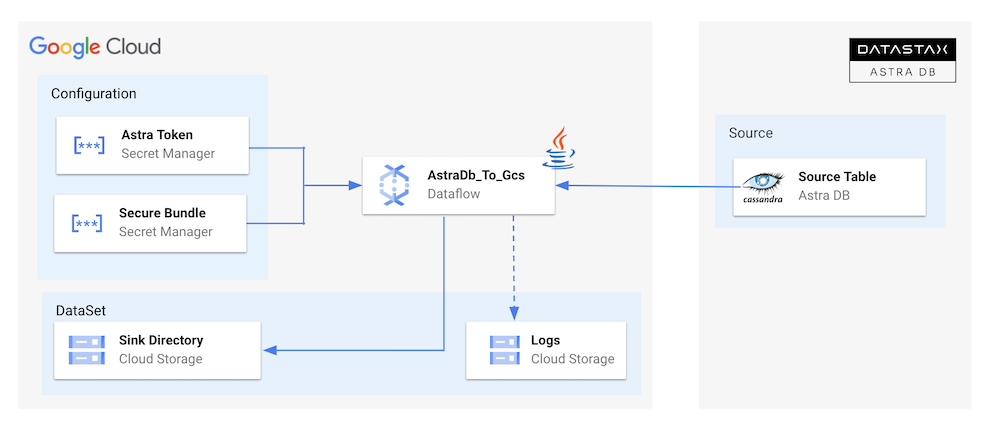 4. AstraDb to BigQuery¶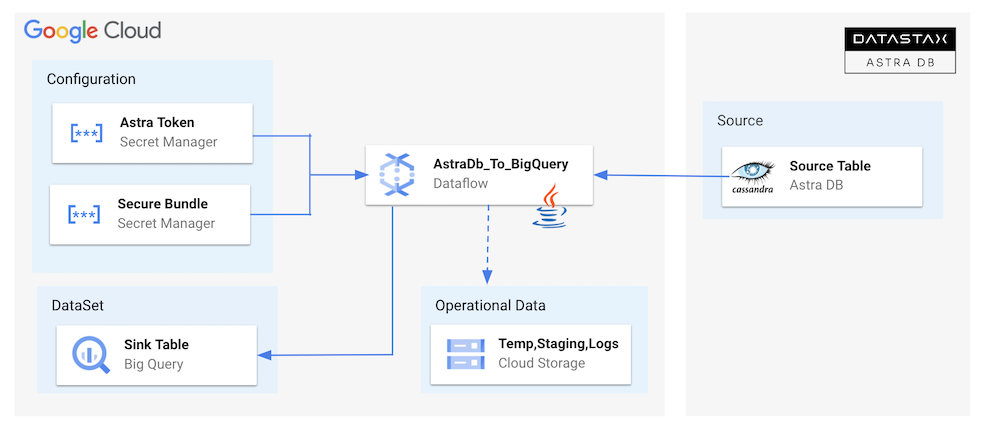 Create BigQuery dataset

Create a dataset in dataflow_input_us BigQuery with the following command
Create BigQuery Schema

Create a json schema_language_codes.json file with the schema of the table** We have created it for you here
5. BigQuery to AstraDb¶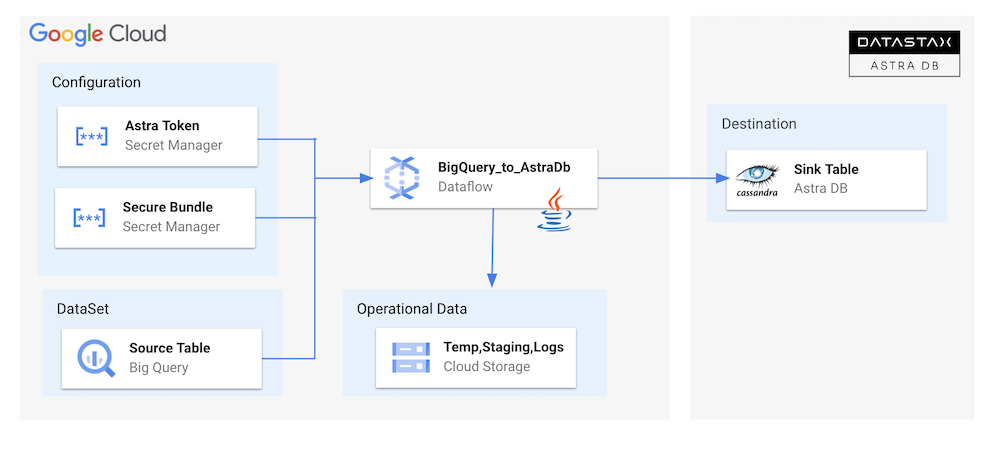 Replace with values coming from your gcp project. The destination table has been created in flow 3.3
6. BigQuery Dynamic Mapping¶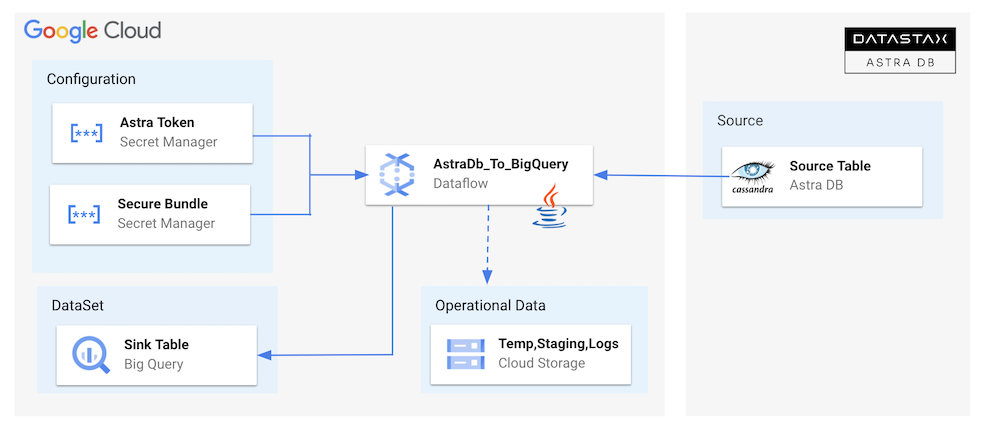 A dataset with the keyspace name and a table with the table name have been created in BigQuery.
---
Last update: 2023-09-13