‣ Cqlsh
📖 Reference Documentations and resources
A - Overview¶
CqlSH is a command-line interface for interacting with Cassandra using CQL (the Cassandra Query Language). It is shipped with every Cassandra package, and can be found in the bin/ directory alongside the cassandra executable. cqlsh is implemented with the Python native protocol driver, and connects to the single specified node.
You can setup the software by providing options in the command line and/OR provide the settings in a file called cqlshrc located in ~/.cassandra
B - Prerequisites¶
C - Installation¶
✅ Step 1: Download and extract the archive
To download the archive you can go on the download page, check the box and download the file: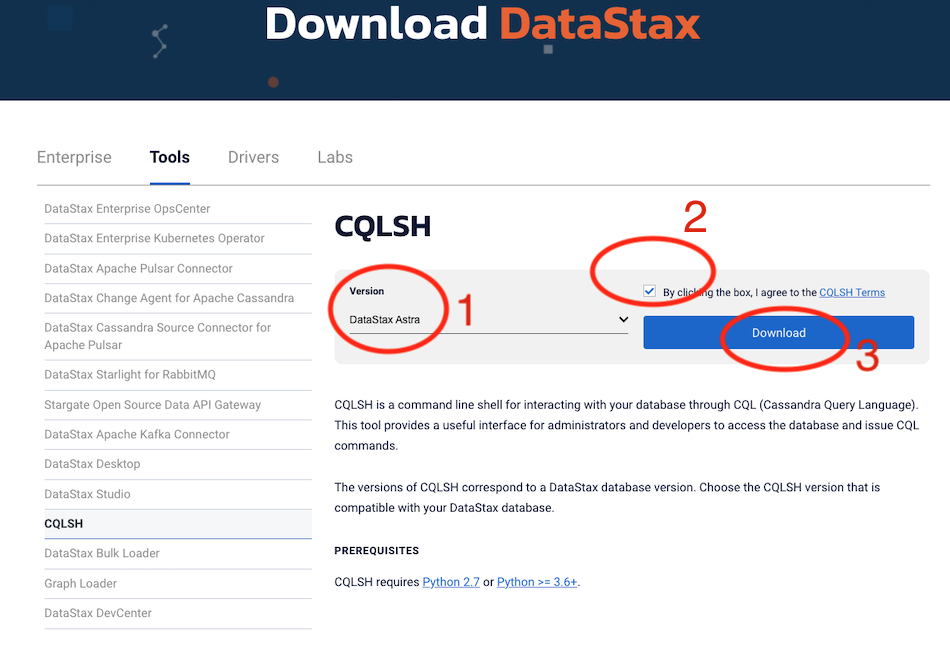 You can also use the command line:
The archive should look like: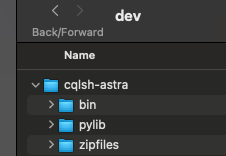 ✅ Step 2: Start cqlsh providing parameters in the command line:
From the directory where you extracted the CQLSH tarball, run the cqlsh script from the command line:
-u (username) - Client ID as provided in the token generation page
-p (password) - Client secret as provided in the token generation page
-b (bundle) - location of the secure connect bundle that you downloaded for your database.
✅ Step 3: Start Cqlsh providing parameters in cqlshrc
Configure the cqlshrc file If you do not want to pass the secure connect bundle on the command line every time, set up the location in your cqlshrc file in ~/.cassandra
D - Tips and tricks¶
If is a good idea to add cqlsh in your path to be able to use from everywhere

If you want to work with multiple DB use some alias with the parameters
---
Last update: 2022-09-02