• Vector Client Java
1. Overview¶
The Astra DB Client, as the name suggests, is a client library that interacts with the various APIs of the Astra DataStax Platform. It enables users to connect to, utilize, and administer the Astra Vector product. The library encompasses two distinct clients working in tandem:
AstraDBClient: This is the primary entry point to the library and serves as the initial object to access all its features. The client supports both schema operations (such as adding and deleting vector stores and collections) and data operations (including insert, update, and delete functions). It notably offers advanced search capabilities, which encompass similarity search, text-based search, and metadata filtering.

AstraDBOpsClient: This class is specifically designed for the administration of the Astra Vector platform. It facilitates the creation, deletion, and management of various databases within your tenant. Authentication is done via a token that is scoped to your tenant.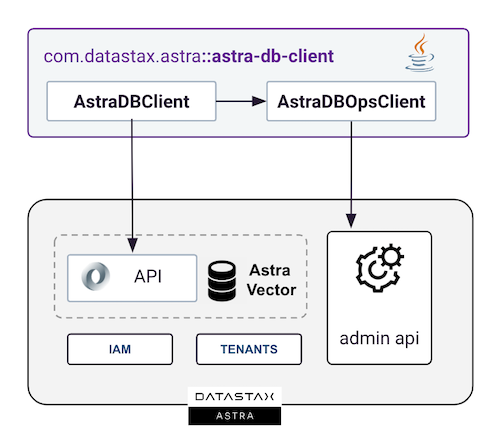 2. Prerequisites¶
Install Java Development Kit (JDK) 11++
Use the java reference documentation to install a Java Development Kit (JDK) tailored for your operating system. After installation, you can validate your setup with the following command:
Install Apache Maven (3.9+) or Gradle
Samples and tutorials are designed to be used with Apache Maven. Follow the instructions in the reference documentation to install Maven. To validate your installation, use the following command:
Create your DataStax Astra account:
Once logged into the user interface, select settings from the left menu and then click on the tokens tab to create a new token.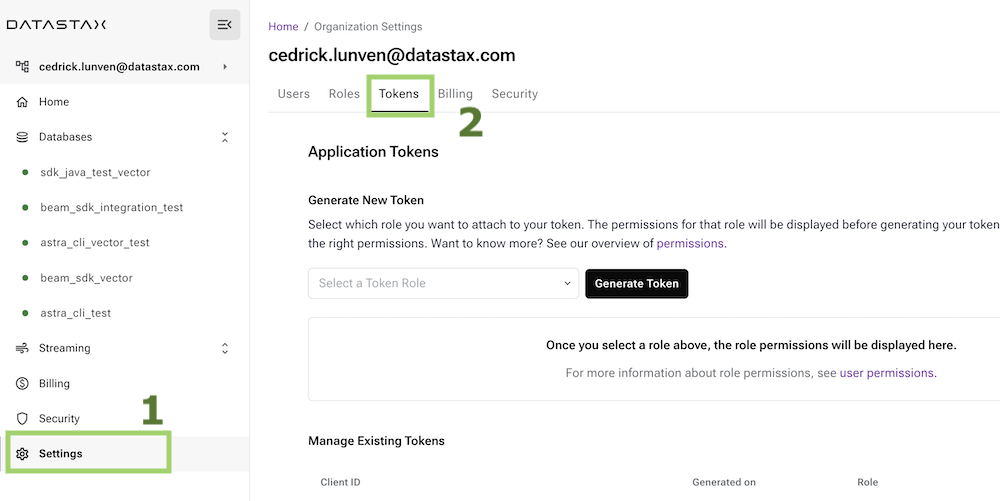 You want to pick the following role:
| Properties | Values |
| --- | --- |
| Token Role | Organization Administrator |
The Token contains properties Client ID, Client Secret and the token. You will only need the third (starting with AstraCS:)
3. Setup project¶
If you are using gradle change the build.dgradle with
4. Getting Started¶
With a valid token, you can create an AstraVectorClient object and start using the library.
4.1 Using Json¶
4.2 Object Mapping¶
Instead of interacting with the database with key/values you may want to associate an object to each record in the collection for this you can use CollectionRepository. If we reproduce the sample before
5. Reference Guide¶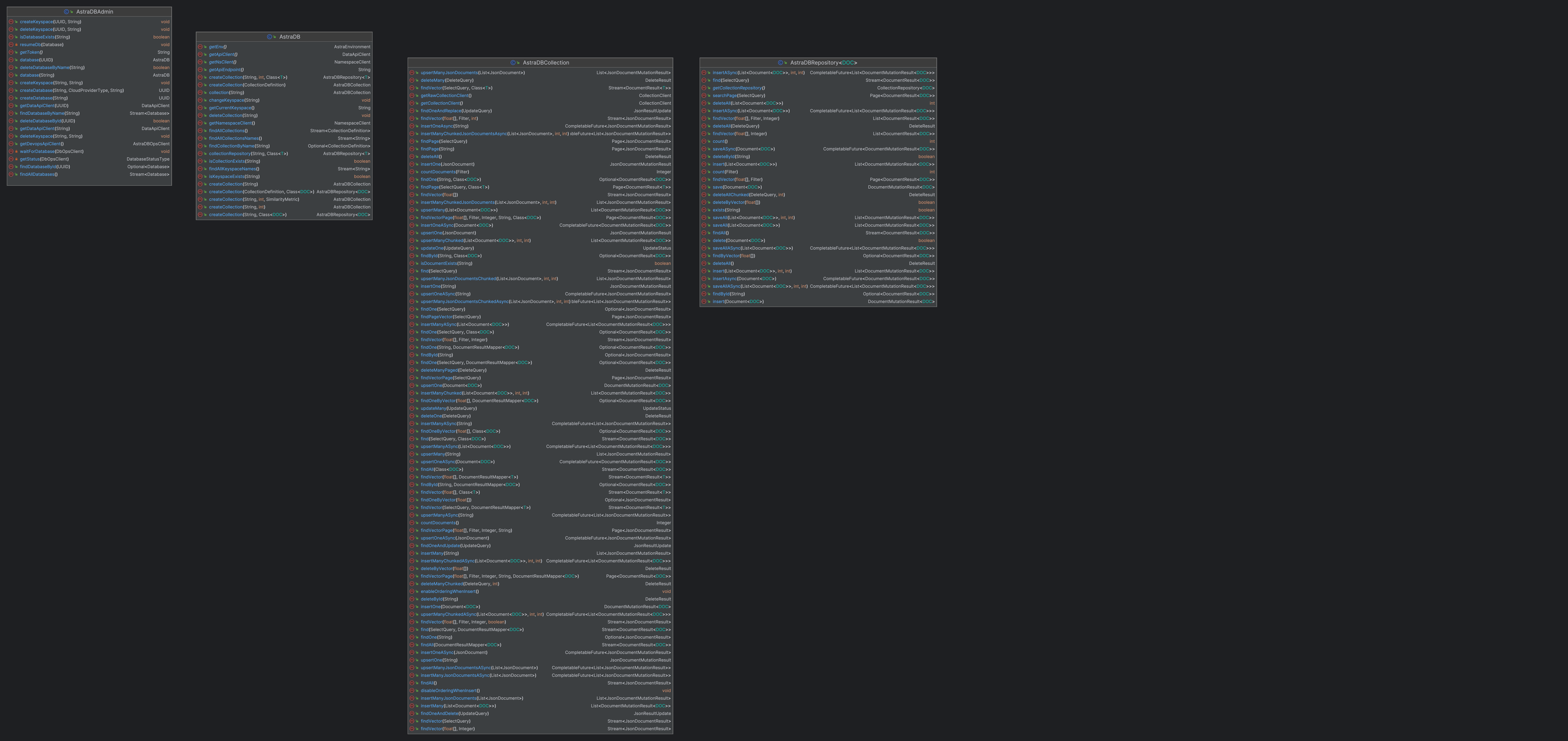 5.1 AstraDBClient¶
The initialization happens in AstraVectorClient class. It can be done in different ways:
5.2 Working with Databases¶
List Databases with findAllDatabases
Create Databases with createDatabase
The function can take a database identifier (uuid) or the database name.
Delete Databases with deleteDatabase
The function can take a database identifier (uuid) or the database name.
Access database from its name or id
5.3 AstraDB¶
Assuming the database already exist and you want to use it you can directly instantiate this class from am astra token and the api_endpoint. The endpoint can be copied from the user interface but it looks like
5.4 Working with Collections¶
Find a collection from its name
Delete a collection from its name
Create Collection with createCollection
Use same method providing a bean you get CollectionRepository
If collection already exist
5.5 CollectionClient¶
Insertions

If no id is provide when inserting the system will generate on for you
You can retrieve vector documents from their id of their vector. It is not really a search but rather a findById.
Retrieve a document from its id (if exists)
Retrieve a document from its vector (if exists)
You can retrieve all vectors from your store but it might be slow and consume a lot of memory, prefered paed request except when in development.
You can search on any field of the document. All fields are indexed. Using a SelectQuery populated through builder you can get some precise results.
Find Page works the same as findAll(Query) where you can pass a SelectQuery as input. In the object Page the field pagingState should be provided from page to another.
In the query ou can then add filter with the builder.
A similarity search is a query that will find records where vectors are the closest to a given vector. It is done by providing a vector and a number of results to return. The result is a list of JsonResult that contains the payload and the distance.
When a limit is provided the service return a list of Results.
When no limit is provided the service return a Page of results and paging is enabled.
The limit must be between 1 and 20.
5.6 CollectionRepository¶
6. Troubleshooting¶
Common Errors and Solutions
List typical issues users might face and their resolutions.
Address frequently asked questions.
7. Best Practices¶
Offer guidance on optimizing usage for better performance.
7.2. Security Recommendations
Share advice on secure practices when using the library.
8. Contribution Guide¶
Outline the behavior expected from contributors.
Describe how one can contribute to the library, e.g., via pull requests.
9. Release Notes/Changelog¶
Track changes made in each version of the library.
10. Contact and Support¶
Provide a link or method for users to report issues.
Point users to forums, support channels, or other resources.
---
Last update: 2023-11-21